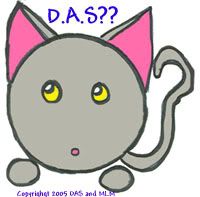 Who are the DAS?
Established in 2002 as a mailing list and moving to monthly meetings in 2004, we are Delaware's most active anime and gaming club with chapters in North DE, South DE and Southeastern PA.
Three weekend days of the month, one of our three chapters - stationed in Dover DE, Wilmington DE, and Philadelphia PA - gathers for 4-6 hours to watch anime, play video games, and engage in various other activities related to the anime fandom. One chapter hosts each week. (2nd Saturday: Dover, 3rd Sunday: Wilmington, and last Saturday: Philadelphia)
The Delaware Anime Society is for those with an interest in Japanese anime, gaming, costuming, manga, music and pop culture to meet with like-minded people.
We welcome anime fans of ages 13 and up, and are a family friendly club. We have many activities such as raffles, trips, mini cons, video gaming, monthly meetings, merchandise, movie outings, and more.
We are also the people behind the annual Philadelphia-region anime, sci-fi, gaming and fandom convention,
Zenkaikon
.
Despite having three chapters across Delaware and Pennsylvania, we are a very close-knit group. Events are either organized through the Yahoo Mailing List, the DAS Facebook or via phone/face to face interaction. The chapter leaders (aside from being good friends to start) work closely with one another and collaborate on ideas and new events. Additionally, many members attend multiple chapter's meets each month, and we all gather for the larger special events like the mini-cons, dinners, and trips. Members also get together for non anime events such as concerts put on by members' local bands, movies, dinners, or just hanging out in general.
What are the club's goals?
Our ultimate goal is to unite anime, Asian culture and gamingenthusiasts in the tristate area and for them to have fun and make lifelong friends and contacts through their shared interests and by being a part of our club.
We also strive to:
Expand awareness of Japanese animation in the community.
Further the appreciation of Asian culture.
Educate the public on the connection between art and culture.
Give back to the community in the form of educational programs and charity donations.



WELCOME, FRIENDS!